Way back in 1992, the Premier League started, so did Manchester United's awesome domination over the next 20 years. In the blink of an eye, it's been 21 years since and Manchester United's success has of course come with the contributions of many great strikers of all nationalities. Here we count down the Top 10 of these strikers who have made Old Trafford a literal Theatre of Dreams.
10. Javier Hernandez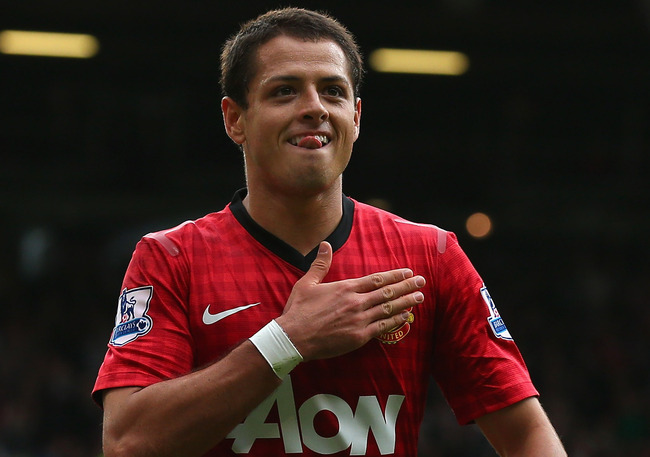 At only age 24, this young mexican has already cemented his place as an Old Trafford cult favourite, not only scoring important goals, but scoring them efficiently too. He was the first player since Ruud Van Nistelrooy(you'll see him later) who scored 20 goals in his debut season at his club, which is impressive considering he was not a consistent starter even up till now. He still has a bright future ahead and tons of goals to score.
Efficiency( Goals per game): 0.46 (31 in 67 games)
9. Robin Van Persie
Hello, it's another Dutch striker with the word 'van' in his name. Yes, his first season in United has not even come to a close and yet he has written his name in the history books and captured the hearts of United fans all over the world. Who could forget the masterful performances against Arsenal and Manchester City? Not to mention the countless times he has bailed United out with a last minute goal or winner. Many more goals to come from this Dutchman. That's a guarantee.
Efficiency: 0.76 (22 in 29 games)
8. Teddy Sheringham
One of the strikers from a great Manchester United era, Sheringham was well known for his poaching and scoring abilities as well as a high profile spat with fellow striker Andy Cole. Despite the limited starting chances he got with Yorke arriving, he made a lasting impact with his memorable goals (1999 Champions League Final anyone?) and is still considered a United legend in many fans' hearts.
Efficiency: 0.3 (46 in 153 games)
7. Dwight Yorke
Oh yes we remember this guy. Dwight Yorke made scoring not only look cool but immensely fun as well. His trademark toothy grin was a mainstay on many-a-television back in the day. He and Andy Cole formed one of the most prolific, entertaining and telepathic strike partnership in football history. He probably loved the hell out of Beckham who gave him inch perfect cross after inch perfect cross which made it so easy for him to head into goal.
Efficiency: 0.43 ( 66 in 152 games)
6. Mark Hughes
Ok ok ok, before you old school United fans get angry at this disrespectful ranking, I want to clarify that this a Premier League list. Hughes was in the twilight of his career when the 92 season came along and he left after the 95' season which his stats did not do justice to his Premier league legacy. But wow what a United legend this guy is. From the cool curly perms to even curlier mullets, Mark Hughes was a Red Devil through and through. He played with a determination and grit you seldom find in players nowadays and his goal scoring touch was legendary.
Efficiency: 0.35 (163 in 467 games)
5. Ole Gunnar Solksjaer
Few players can say that they made Peter Schmeichel cartwheel without any sort of financial incentive. Solksjaer scored the game winning goal in the 1999 champions league final against Bayern Munich with virtually the last kick of the game, sealing one of the most famous Champions League wins in history. HOWEVER, that can't take all the credit. Solksjaer was an extremely prolific scorer, despite the fact that he was the poster boy of super-subs and hardly started. Still, he kept his loyalty, his scoring boots and his hairdo all the way to his retirement as a Red Devil. Long live the Baby-faced Assasin.
Efficiency: 0.34( 126 in 366 games)
4. Andy Cole
Andy Cole was the other half of the incredible strike partnership with Dwight Yorke. Arriving from Newcastle in 1995, Cole made an immediate impact, scoring 12 goals in 18 games in the remainder of the 94-95 season. He proceeded on to a stellar career at United, constantly leading United in scoring and of course to the 1999 Treble season, cementing his legacy as not only one of the best at United but in the Premier League as well.
Efficiency: 0.44( 121 in 275 games)

3. Wayne Rooney
Here is the next great no.10 for United. Rooney has proven to be one of the best transfers Fergie has ever made. Arriving at United as an 18 year old what does he do? Score a hat-trick against Fenerbache on his debut. OK. Already in his ninth (wow time flies) season, Rooney has given his heart and soul to United. Besides being a world class striker with a mercurial knack for the jugular, he brings a passion and an aggression that spurs on the entire team. What's scary is that he is only 27 years old. We look forward to the tons of goals this true United legend is gonna score. Wazza!!!
Efficiency: 0.5( 194 in 389 games)
2. Ruud Van Nistelrooy
Back in the early 2000s the picture on the left was a real common sight. The Flying Dutchman scored like his life depended on it. Defenders would mark him and try to take him down but to no avail. One time against Fulham, he did a Ryan Giggs and dribbled from the halfway line all the way to penalty box for a goal. Sadly, his career with United did not last long enough for us to enjoy even more of his wizardry when he packed up his bags and left for Madrid. Now in 2013, his flying dutchman legacy is being carried on (see No.9) but he will be forever remembered as the original dutch goal scoring monster.
Efficiency: 0.68(?!?!?!?!!)(150 in 219 games)
1. Eric Cantona
You know you are 'King Eric" when you have goal celebrations like that( see pic on left). Just stand there, pose and look cool. All that after an insane lob over Sunderland's keeper. At the end of the day, its not the games played, goals scored or efficiency that matters. The No.1 spot belongs to the King because he ruled football wherever he went. His goals were audacious and spectacular, taken with ruthlessness and a swagger that could make opponents cry. In addition, he had amazing kungfu skills. After so many years, King Eric still reigns in the hearts of every United fan, and that familiar chant still rings in their ears : "OOH AAH CANTONA"
Efficiency: 0.44 (82 in 185 games)